Advent Calendars
Pre-order your Children's and Adult Advent Calendars
Any orders that contain either of these products will ship the first week of November.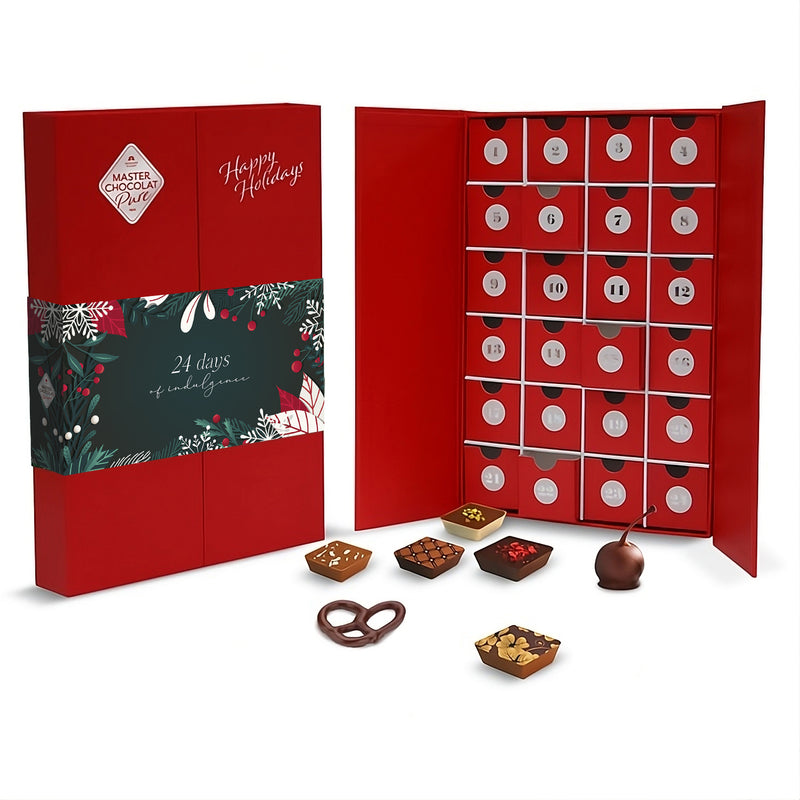 Description
The wait is almost over!  Our much-anticipated Advent Calendar is back, and it's more exciting than ever. Get ready to indulge in a daily dose of holiday joy as you uncover a delightful array of chocolate treats, including new chocolate flavours and cherished classics.
Available for pre-order delivery 1st week of November.
Don't miss out on this perfect way to make your holiday season even more special. Our Advent Calendar is a cherished tradition that adds sweetness to every December day. Order yours now and let the countdown to Christmas begin!
Please stop scrolling if you want the items in your advent to be a surprise!
Day 1:  Milk Chocolate La Mer (Salted Caramel)
Day 2:  Dark Chocolate Covered Almonds
Day 3:  Mini Peanut Butter Cup
Day 4:  Dark Chocolate Covered Hazelnuts
Day 5:  Milk Chocolate covered Gummy Bears
Day 6:  Bella (White Pistachio)
Day 7:  Dark Chocolate Covered Ginger
Day 8:  Milk Chocolate Covered Pretzels
Day 9:  Dark Chocolate Covered Wine Gums
Day 10:  Chewy Pecan Caramel
Day 11:  Caramel Raspberry
Day 12:  Hedgehog
Day 13:  Dark Chocolate Covered Gummy Bears
Day 14:  Butter Pecan
Day 15:  Dark Chocolate La Mer (Salted Caramel)
Day 16:  Pinon (Pine Nut)
Day 17:  Mint
Day 18:  Milk Chocolate Covered Hazelnuts
Day 19:  Milk Chocolate Covered Wine Gums
Day 20:  Dark Chocolate Covered Pretzels
Day 21:  Milk Chocolate Covered Almonds
Day 22:  Gingerbread
Day 23:  Christmas Caramel
Day 24:  Liquer Cherry