Chocolate Courses
Have you ever wanted to learn from the Master of Chocolate?

Join Master Chocolat for a three hour hands-on Course of Chocolate-Making and Introduction to Tempering!
Spend a sweet evening with Bernard Callebaut, the man himself; and learn what makes him a master of the industry.
Learn all about the history of chocolate, analyzing ingredients of candy vs. chocolate bars, cocoa content and its' influence on the taste, and the role in flavour profiles.

Finally, you'll cover the most important aspect: tempering

Tempering is the most vital thing in a chocolatier's arsenal. Defined as the proper heating and cooling of chocolate to stabilize the crystals for making candies and confections; giving your chocolate a smooth and glossy finish and allows it to set up beautifully for dipped and chocolate-enrobed treats.

What is the science behind it, and why is the "right" and stable crystals in your chocolate so vital?
Learn all of the tricks and be guided by Bernard as you test and perfectly temper with tools we all have in our home kitchen.
Learn how to make bars, heart lollipops and hand-moulded salted caramel truffles, that you mould, fill, and then cap to complete your finished product. We have bulk chocolate and chocolate moulds available for purchase in our retail location; if you want to put your new skills to the test after you complete our Level 1 Chocolate Course! 

Finally, (the best part!) is that you take home everything you make to enjoy!
Call 403-252-5750 for details and register online at www.masterchocolat.com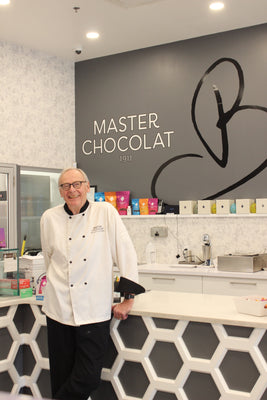 Sorry, there are no products in this collection