Assorted Chocolate Boxes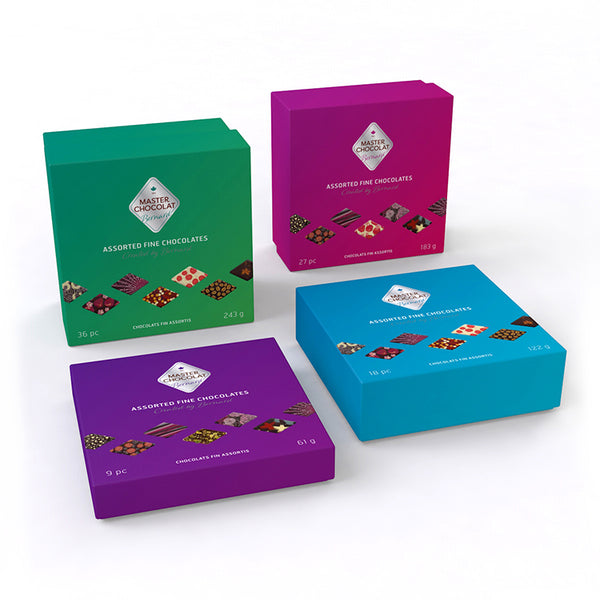 Description
A ready-filled box containing a dazzling selection of Bernard's favourites, your choice of 9 pieces, 18 pieces, 27 pieces or 36 pieces.

You asked, so we have listened.. Our chocolates are now 33% bigger and substantially more delightful filling to enjoy.. 

Stay tuned for more shapes and flavours coming soon! 

 
 Please note - all of our chocolates do not contain preservatives and have a 1 Month Expiry
Ingredients may include:  organic milk chocolate 46% (organic cocoa butter, organic cane sugar, organic milk powder, organic cocoa liquor and organic vanilla), organic fairtrade dark chocolate 70% (fairtrade organic cocoa mass, fairtrade organic cane sugar, fairtrade organic cocoa butter, fairtrade organic vanilla), organic white chocolate (organic cocoa butter, organic fairtrade cane sugar, organic whole milk powder, organic vanilla powder), organic heavy cream, organic unsalted butter, organic hazelnuts, organic cane sugar, vodka from potatoes, organic ginger, organic coconut, organic pistachio, organic maple syrup, honey, organic raspberry, black currant, mango, orange, strawberry, organic pine nuts, organic pecans, organic raisins, organic coconut milk, inverted sugar, organic cocoa nibs, Grand-Marnier, Irish cream, single malt scotch, rum, elderflower liqueur, sea salt, organic coffee, cayenne flakes, grapeseed oil, lavender, rose petal, cinnamon, cloves, cardamom, orange peel, organic coconut puree, allspice, organic peppermint extract, organic earl grey tea, organic egg whites, ground vanilla, guar gum, chlorella, 24 karat edible gold flakes, natural colours.
May Contain:  Milk • Hazelnuts • Peanuts • Pistachios • Almonds • Cashews • Pecans • Pine Nuts • Soy • Walnuts