Christmas
A collection of chocolate gifts for your friends', colleagues, clients or yourself!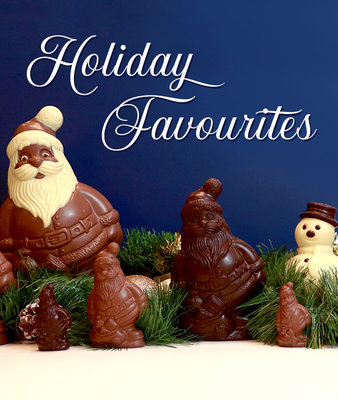 Description
Milk Chocolate Candy Cane Bomb

Unwrap the magic of the holiday season with our Milk Chocolate Candy Cane Hot Chocolate Bomb. This delightful treat is a delightful sphere of velvety milk chocolate, filled with rich cocoa and mini marshmallows that come to life in a mesmerizing way.

The enchantment begins as you place the candy cane covered hot chocolate bomb in your favourite mug. Pour hot milk or water over it, and watch as the chocolate shell melts away to reveal a sweet surprise - a burst of mini marshmallows, creating a cozy and decadent hot chocolate experience.

But that's not all! The candy cane infuses your hot chocolate with a refreshing peppermint flavour. It's a perfect harmony of creamy and cool, a holiday hug in a mug.

Whether you're indulging yourself or spreading holiday cheer, our Milk Chocolate Hot Chocolate Bomb with a Candy Cane is a delightful way to celebrate the season. Each one is handmade with care, ensuring every sip is a moment to savour.
Share the warmth and joy of the holidays with this sweet sensation.

Order yours today and make your winter nights merry and bright! 
Ingredients: Fair trade organic milk chocolate 46% (fair trade organic cocoa butter, fair trade organic cane sugar, organic milk powder, fair trade organic cocoa liquor, fair trade organic vanilla extract) Peppermint Marshmallows (tapioca syrup, cane sugar, filtered water tapioca starch, carrageenan, soy protein, beet juice concentrate, natural peppermint flavor) candy cane (sugars (sugar, glucose syrup) natural flavour (peppermint), allura red, glycerin, canola oil, sunflower lecithin) Fair trade Organic White Chocolate (fair trade organic cocoa butter, fair trade organic raw cane sugar, fair trade organic whole milk powder)
Contains: Milk and soy.
May contain: almonds, cashews, hazelnuts, peanuts, pistachios,