Chocolate Covered Liqueur Cherries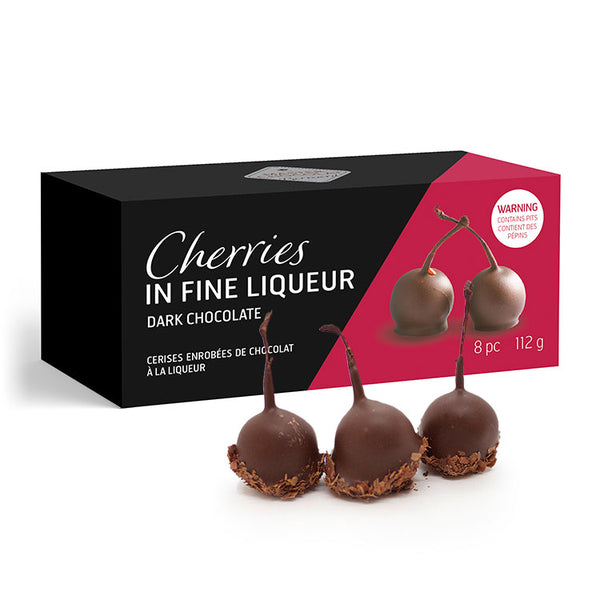 Description
***Contain Pits
Hurry, this exquisite treat won't last long! Introducing our limited-time offering: Cherries from the heart of France, steeped in the rich notes of brandy, then lovingly hand-dipped in a luscious fondant, enrobed in the finest chocolate, and adorned with delicate shavings for a truly unique flavor sensation.

This extraordinary creation is a fusion of artisanal craftsmanship and premium ingredients that elevate the classic chocolate-covered cherry into a luxurious and unforgettable experience. A product of true indulgence, perfect for gifting or savouring on special occasions.

Don't miss out on this exceptional delicacy, as quantities are limited and demand is high. Secure your supply of these remarkable chocolate-covered cherries before they disappear!
 Cherries will be shipping November 8th.
Ingredients: organic fair-trade dark chocolate 70% (fair-trade organic

cocoa mass, fair-trade organic cane sugar, fair-trade organic cocoa
butter, fair-trade organic vanilla), fresh cherries in brandy and vodka
(cherries, brandy, vodka, sugar), fondant, sucrose and glucose).
Ingrédients : chocolat noir biologique 70% issue de commerce
equitable (pâte de cacao biologique issue de commerce equitable,
sucre biologique issue de commerce equitable, beurre de cacao
biologique issue de commerce equitable, extrait de vanille biologique
issue de commerce equitable), griotte fraîche à l'Eau de vie (cerises,
eau de vie de vin, vodka, sucre), fondant (saccharose, glucose).