Christmas Spice Bars - Dark Chocolate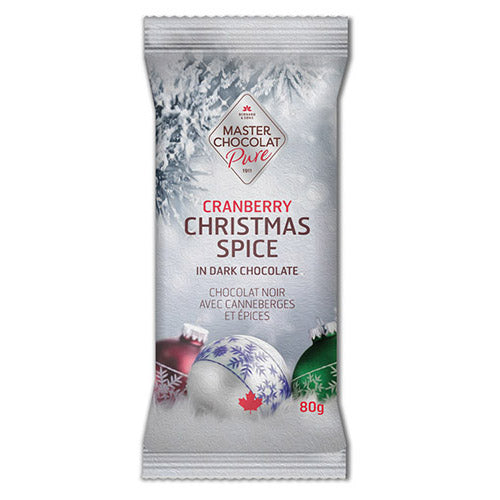 Description
Indulge in the Essence of the Holidays with Our Dark Chocolate Christmas Spice Bar!

Our Dark Chocolate Christmas Spice Bar is a holiday sensation that combines the rich depth of dark chocolate with the warm, comforting embrace of mulling spices and the sweet tang of real cranberries. 

Crafted from premium dark chocolate, this exquisite bar offers a velvety texture and a bold, intense cocoa taste that dark chocolate enthusiasts adore. Infused with the aromatic allure of mulling spices, each bite is a journey into the heart of Christmas. The spices add a cozy, warming note that elevates the experience to a new level of indulgence.

But the magic doesn't stop there. Real cranberries are skillfully folded into the dark chocolate, introducing a delightful burst of fruity freshness that harmonizes perfectly with the complex flavours of the mulling spices and the richness of the dark chocolate.

Whether you're savouring it by the fire, sharing it with loved ones, or gifting it as a unique treat, our Dark Chocolate Christmas Spice Bar is the perfect way to celebrate the season. It's a fusion of flavours that captures the magic and warmth of Christmas in every bite.

Order your Dark Chocolate Christmas Spice Bar today and make your holidays truly unforgettable with a taste that speaks to the heart of the season!

80g