Hot Chocolate Bomb - Dark Chocolate Christmas Spice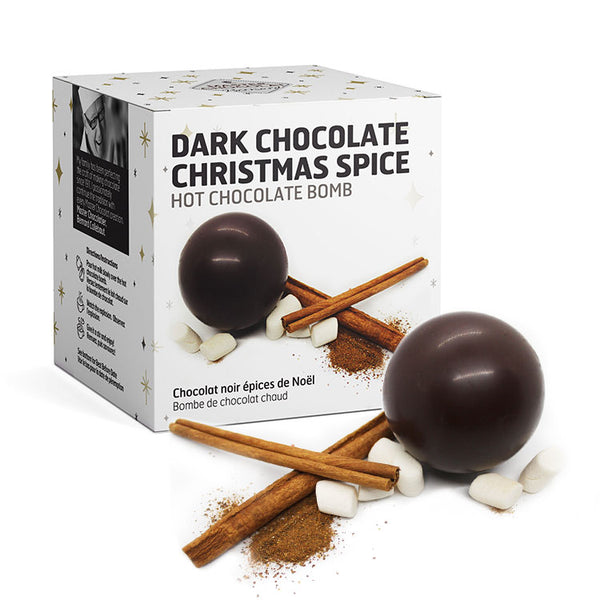 Description
Step into the Heart of the Holiday Season with Our Christmas Spice Dark Hot Chocolate Bomb!

As you unwrap the delightful packaging of our Christmas Spice Dark Hot Chocolate Bomb, you'll be greeted by a tantalizing aroma that instantly transports you to the heart of Christmas. The scent is warm and inviting, reminiscent of mulled cider and cinnamon sticks, enveloping you in the cozy embrace of the holiday season.

But it's not just the captivating fragrance that will captivate your senses. This enchanting creation is a symphony of flavours that truly embody the spirit of Christmas. Crafted from the finest dark chocolate, the outer shell conceals a heartwarming surprise - a mixture of miniature marshmallows, and a medley of mulling spices.

As you watch the chocolate shell melt away when you pour hot milk over it, it's as if you're brewing your very own cup of holiday magic. The result is a deep, velvety hot chocolate infused with the aromatic notes of mulling spices, creating a taste sensation that's both comforting and indulgent.

Our Christmas Spice Dark Hot Chocolate Bomb is more than a treat; it's a journey into the essence of the season. Whether you're snuggling up by the fireplace, sharing it with family and friends, or gifting it to someone special, this enchanting bomb brings the warmth and joy of Christmas to every sip.

Let this holiday-inspired creation be the highlight of your festive celebrations. Order your Christmas Spice Dark Hot Chocolate Bomb today and experience the magic of Christmas in a cup.